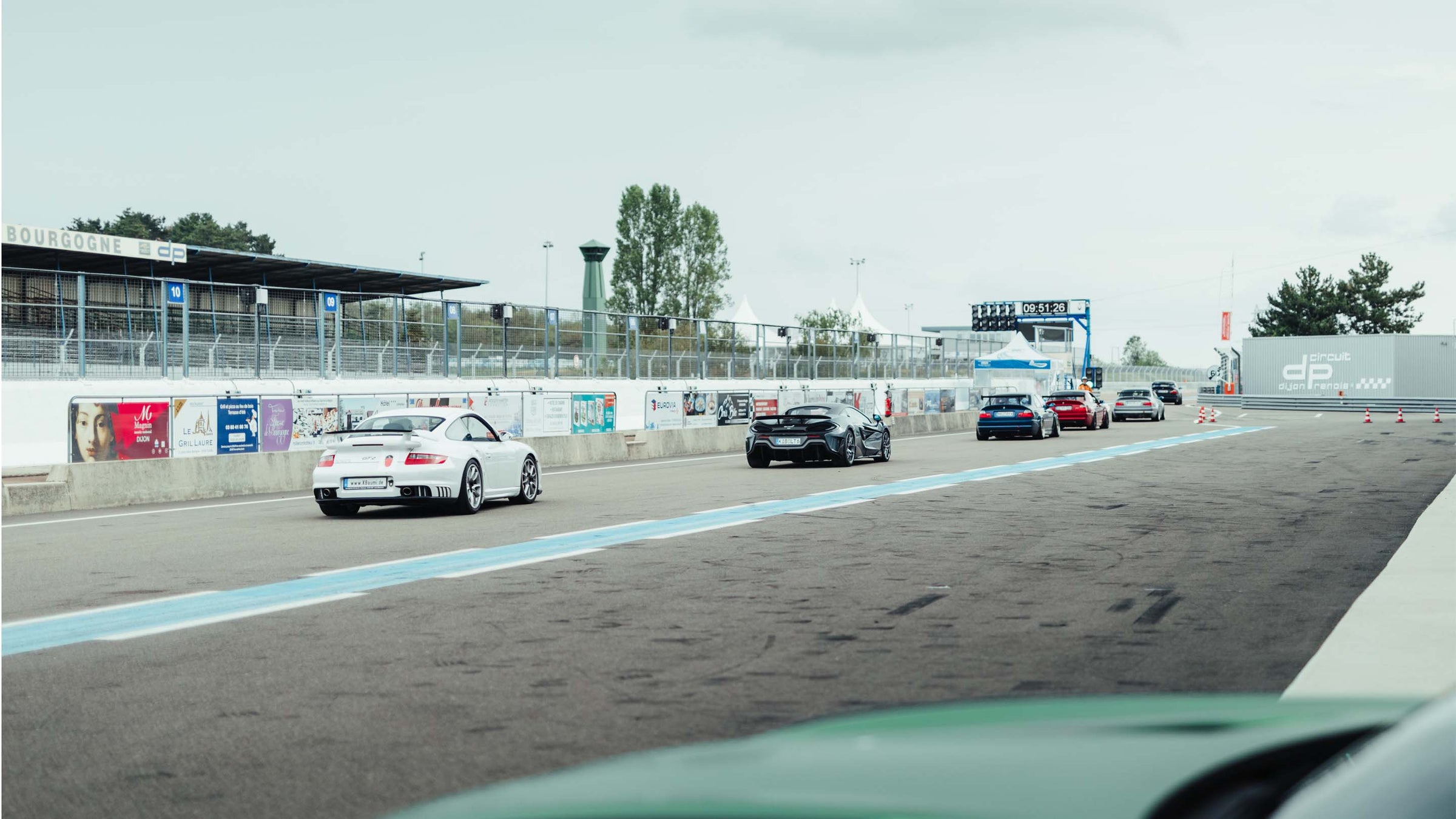 FREQUENTLY ASKED QUESTIONS
NO GROUPS!
OPEN PITLANE ONLY.
Open Pitlane means that you can enter and leave the track whenever you want. Be it for a short break, some work on your car, or adjust the tyre pressures.
You can time your Track Day however it suits you best! This offers you the absolute maximum of track time without having to worry about sticking to a predefined schedule!
TAKE IT EASY!
IT'S ALL ABOUT FUN.
Always remember that our Track Days should be nothing but fun! We do not have any room or tolerance for people who take it too seriously and endanger others on track, by driving on the absolute limit trying to set a new lap record.
Use the fact that we only organise OPEN PITLANE Track Days, which means that you have a minumum of 6:30h of track time per Track Day - more than you could ever use. There is no rush!
FREQUENTLY ASKED QUESTIONS
No! GP Days Track Days are for everyone! Whether it's your first time on a racetrack or you are an experienced Track Day driver. We run a strict "No Douchebag" policy and expect participants to respect each other on and off track no matter the skill level.
If it's your first time on Track,
we highly recommend to book a Coach (Half- or Full Day) in order to make the most of your Track Day experience!
Yes! As a driver, you must be at least 18 years of age and hold a valid European Drivers Licence to drive on track.
Equally, you have to be 18 years old to ride along on the passenger seat!
In general, street and non-street legal car are allowed to participate in our Track Days.
Please remember, that no matter the type of car your using, it has to be technically sound and in good shape. If your car is deemed not fit for track use, you may be excluded from the event without the right for a refund.
Depending on the circuit, you may run slick tyres. Please refer to the specific Track Day description for more
information.
The following vehicles are not allowed at any of our Track Days:
(1) Open Wheelers and Formula Cars (Formula Renault, Formula BMW, etc.) and (2)
Superkarts or "Kart-like" vehicles and (3) SUVs (e.g. BMW X3/X5, Range Rovers, etc.)
If you want to use an Electric Vehicle (EV) or Hybrid on track, please contact us before booking your Track Day as many circuits do not permit these type of vehicles.
In general, competetive race cars, including VW Fun Cups, Citroen C1s, Clio Cup cars etc. are only allowed to participate after receiveing writting confirmation.
If you have any questions regarding our vehicle restrictions, please contact us.
Yes! All occupants of the car have to wear a helmet at all times while on track.
If you drive a convertible car or a car without a wind-screen such as a Caterham, KTM X-Bow, etc., you must wear a full-face helmet. JET-helmets are only allowed in closed cars.
Most important is to bring your helmet and drivers licence. For a little bit of guidance of might come in handy during your day, check out the GP Days Track Day Check List!
This highly depends on your insurance policy. Usually, any damages on track will not be covered by your insurance. We advise you to speak to your insurance before visiting one of our Track Days to verify your coverage.
We strongly advise anyone who
participates with a non-street legal car to obtain a third-party liability insurance to cover any damages caused by the car off-track i.e. in the paddock, etc.. There are several special risk insurers offering such policies for fairly low annual rates.
Please be reminded, that GP Days is not liablie for any material or personal damages which occur during any of our Track Days.
You are liable for any damages caused to the circuits infrastructures by you and/or your vehicle. This includes damages at barriers, tyre walls, track markers as well as cleaning up oil or coolant spillages. Some circuits may also charge a fee in case a tow truck needs to recover you from the circuit.
Please remember, that there is no liability between the participants. If you have a coming together with another vehicle on track, each participant has to cover their own damage.
Yes! We will take pictures of you throughout the day on track and in the paddock. The pictures will be available for download approximately a week after the Track Day and are free of charge!
This depends on the circuit you are visiting! Please refer to the respective Track Day description for more information.
Please that at Bilster Berg, it is generally not possible to drop of your vehicle the day prior or sleep in the Paddock.
No! If you completed the E-Briefing before the Track Day, you can arrive at any time you want!
Please book your Track Day via our Homepage. We do not accept booking on the spot during the day of the Track Day.
Once you receive a confirmation E-Mail, you are bascially good to go!

You will receive an additional E-Mail around 10 days before the Track Day which will contain all relevant information regarding our Online Drivers Briefing, Liability Waiver as well as a detailed schedule for the day.
To find out more about our E-Briefing, please click HERE
If Pitboxes are available, you can book them together with your Track Day on our Homepage.
Sure! If your are five or more drivers, please contact us before the Track Day and we'll figure out an individual package!
Yes, of course! You can book a coaching seassion (half or full day) together with your Track Day.

Please note that a Coaching requires you to also book a full Track Day slot!
WAITLIST, CANCELLATIONS AND OTHER
If you missed out on securing a spot for one of our Track Days, you can get yourself noted on the wait list. Do do so, please click on the button on the Track Day page.
Once a spot becomes available, everyone will on the waitlist will receive an E-Mail. The spot will be allocated on a frist come, first served basis.
If you need to cancel your Track Day, please contact us as soon as possible.
If we manage to find someone to take over your space, we will refund you (minus a handling fee of ~5%).
In all other cases, please refer to our Cancellation Policy.
Of course! However, please tell us the name of the driver who is taking over your spot at least three days before the Track Day.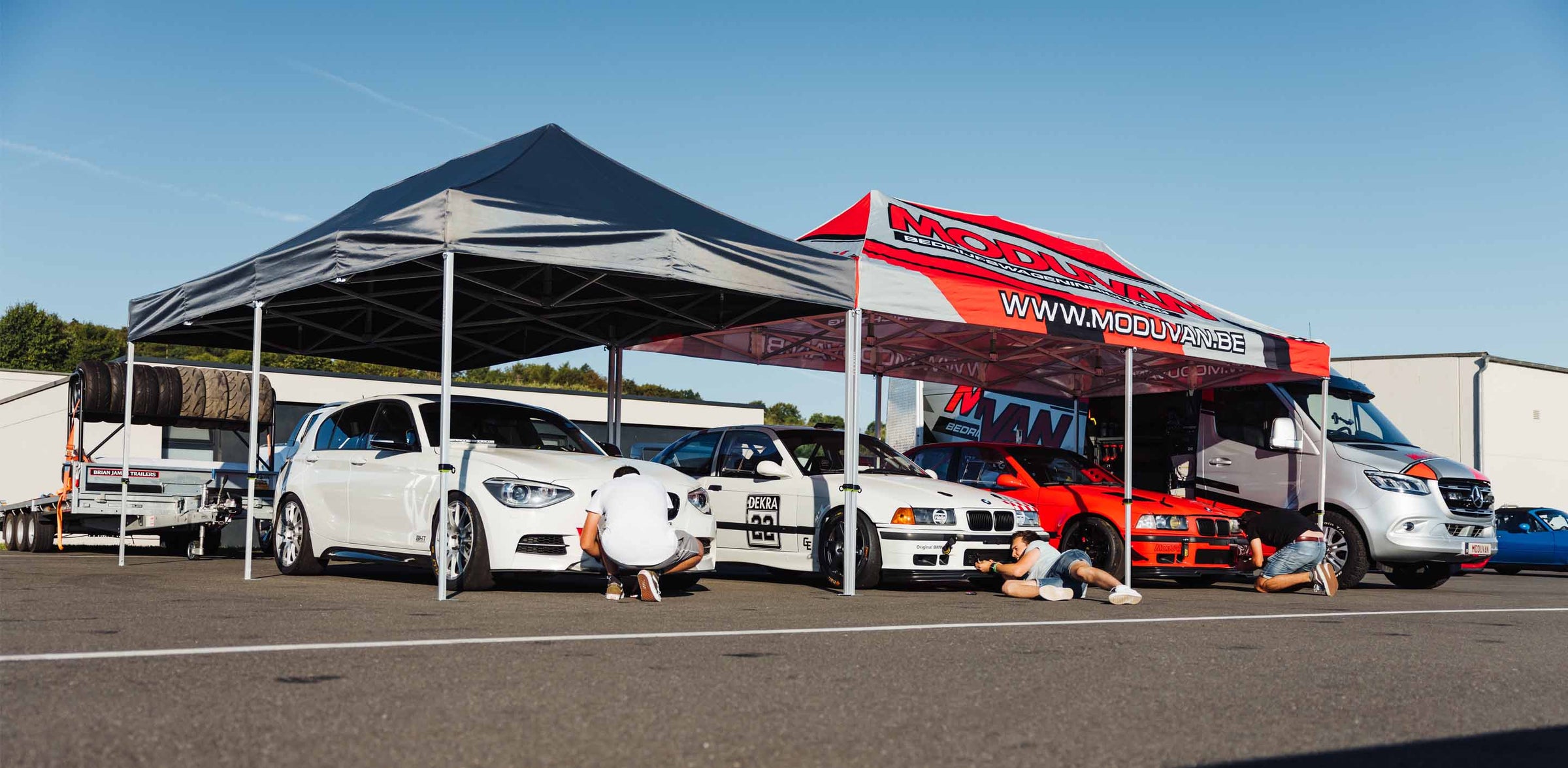 MORE INFORMATION?
GP ACADEMY
Get deeper insights into various Track Day topics such as preparation, behaviour on track and more!
GP ACADEMY